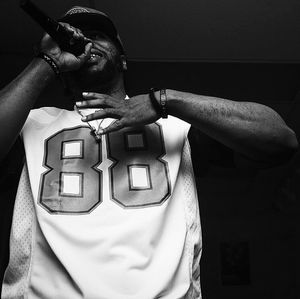 MIDRANGE MEATS aka Quentin Jackson was born in October of 1988 in Sylvester, GA. Raised in the 229, MEATS found his passion for music at the tender age of 9. Growing up, he became a huge fan of the southern hip hop group "Field Mob" out of Albany, GA; 20 minutes away from his hometown. Seeing this small town group impact the music industry inspired MEATS to venture into changing the perception of small town talent. Admiring the artistry of artists like NAS, Big K.R.I.T and Kanye West, his musical library expanded into an influential classroom. 
At 13, MEATS developed his own passion for the music industry. He discovered his flow by doing freestyles in the classroom, on the football field and in the cafeteria. Over the next few years he became a student of the game, crafting his own influential style. While conquering the mic and enhancing his sound, MEATS started growing his core fan base during his senior year of college. Now known as "College Grad Losers".
In 2012, he released his first project entitled "Soul Food Scriptures", an EP that resulted in him being featured by local Atlanta blogs (Str8 Out Da Den, Zillanoise, Broke 2 Dope etc.). He followed up the project with the EP "2-A-Daze"  later that year.  "2-A-Daze II" was released in early 2013. On May 3, 2015 MEATS released his debut album "Financial Aid"; a project that paints the picture of the various forms of financial struggle, and how it has effected his life in the past, present and how it will in the future. On February 27, 2017 BIG MEATS sophomore album "Boy MEATS World" was released to wide spread acclaim. The 5 track Sabir produced EP "Letters From a Loser" was released in October 2018.
Want to know more? Email us for an interview!